Nostalgia in Amish Country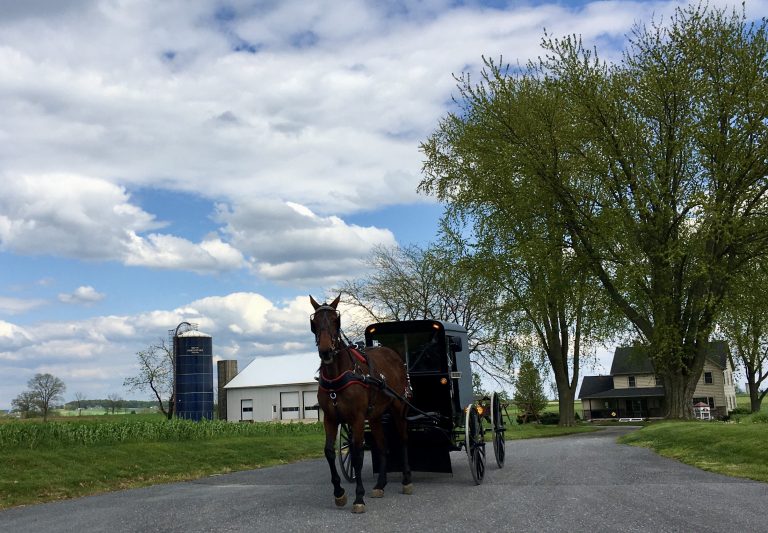 Nostalgia locates desire in the past where it suffers no active conflict and can be yearned toward pleasantly. ~ Robert Hass
Several days ago when my husband David and I were in Lancaster County, Pennsylvania for the retreat I attended, we stayed an extra day so that we could meet up with our son, Tim, and his girlfriend, Niina. We ate our midday meal together at a restaurant that serves down-home cooking, and then we drove through Amish country together. Maybe it was because it was spring, or maybe it was because I felt like I was looking at the Amish "scenes" through the eyes of Tim and Niina who haven't struggled with being torn between two worlds as I have, or perhaps as the opening quote suggests, nostalgia for the Amish life I'd left behind all those years ago comes without an active conflict.
I've felt nostalgia in Amish country before. Clothing flapping in the breezes on high-flying clotheslines on washday can bring on that feeling, as can the sight of a horse and buggy, chickens scratching in the dirt, or animals grazing in a field of green with grasses waving.
Being in Amish country reminds me of the days of my childhood when my sisters and I roamed the fields and woods that surrounded our farm. We picked buttercups, asters, daisies, and black-eyed Susans from the meadow behind the chicken house with butterflies flitting all around us, and we picked trilliums, spring beauties, and wild geraniums from the forest floor where wild rabbits, squirrels, and chipmunks scampered about and the birds sang to us from the trees. When the family still fit in the buggy, we took long rides to see my grandparents who lived eight miles away. Traveling at this slower pace allowed us to see and hear the birds and other wildlife and observe the homesteads of other Amish along the way.
I miss the agrarian lifestyle at a time before technology ruled so much of my life. Some of these technologies have undoubtedly changed the lives of those Amish who have adopted the use of them, most notably Smartphones.
The Amish traditions that were passed down from earlier generations included harmful practices and beliefs, which I am still reckoning with and likely will be for the rest of my life. But there are also sound traditions and values that were mixed in with the the harmful ones. My gratitude for and awe of nature and my earthy approach to life comes from my heritage. The challenge for me is to unravel the traditions I grew up with so that I can examine them individually. I want to let go of those that are harmful to me or in how I relate to others, and embrace those that help me live up to the person I am meant to be. This is a challenge, especially since I was repeatedly warned in my growing up years, "You're either Amish or you're not. You cannot have it both ways." Today I want to change that "or" to an "and" — I'm Amish and I'm not. I suppose the Amish preachers would be glad to know that you can take me out of the Amish, but you cannot take the Amish out of me. That part of me is too deeply ingrained.
Next time I go to Amish country, perhaps I can observe the nostalgic feelings that come up without resisting them. I can acknowledge that I miss aspects of my Amish life without denying that I had sound reasons for choosing a different life than the one that was marked out for me by my Amish heritage.
To order a signed copy of my book(s), click on an image below. You will be taken to the books page of my author website to purchase.