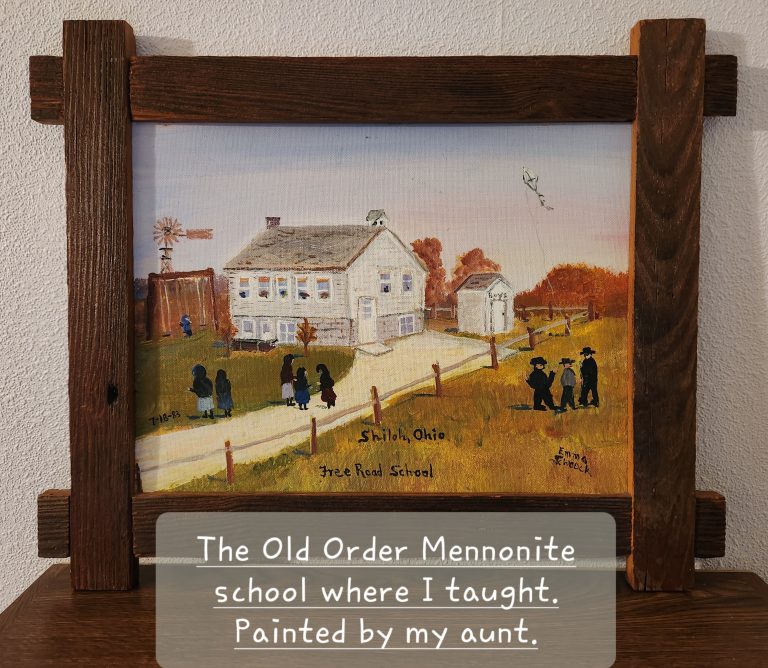 By Aleta Schrock
Continued from Part 1.
After I had returned home from teaching at the Old Order Mennonite church school in Ohio, I worked as a nurse's aide in a local nursing home. I enjoyed my new job, but my heart longed to be back in the classroom teaching children. One day I drove by a church with a sign that they were hiring teachers. I called the number, but they required I attend their church in order to teach at their school and I was unwilling to leave my newfound church and friends. For a moment I despaired. How would I ever teach again if all the church schools required me to attend their church? Suddenly I had a "Duh!" moment. I had always wanted to go to college. This was my opportunity! I looked up the local college in South Bend (IUSB). The address was on Mishawaka Avenue. So I got on Mishawaka Avenue in Elkhart and drove until I ran out of road, but there was no IUSB in sight. I went back home and got better directions without telling anyone about my embarrassing error.
The following week I walked through the university's halls talking with people in admissions, applying for grants, and signing up for classes. My GED English Scores were high enough to qualify me to begin some classes right away, but they required a prerequisite math class for me to qualify for college level math.
Several weeks later I attended my first class majoring in Elementary Education with an English Minor. It was hard working part-time and attending school full time, but it was a dream come true. I loved learning. In one of my initial literature classes my professor asked what we thought the author meant by a particular phrase in the book. An explosion of awe filled my brain and settled into the whole of who I was as I realized that I could decide for myself whether I believed what an author said. It shocked me that although I had already experienced generalizing ideas in my spiritual beliefs, I had not thought to extend it to the rest of my life.
As an Old Order Mennonite, I knew people watched us in public, but I had no idea how many side glances I had lived with until I walked the university hallways and felt uncomfortably invisible. It's not that I wanted to be noticed. It's that I had to accustom myself to this new experience of blending in. It was these subtleties that took me by surprise. I needed to relearn things that I had already been doing comfortably for years. A friend taught me how to do my hair. I bought a pink skirt and later found a blouse I thought would match. When I got the blouse home, I was shocked to discover that despite having spent my childhood coloring with a box of 64 crayons, I had never known there were that many shades of pink to be coordinated. I simplified that choice by exchanging the pink blouse for a white one. Restaurants and napkins were a new experience and I observed how my friends used their napkins. I watched closely to ensure I handled my silverware the same way they did. I learned how to drive on a stick shift. One time I barely made it up a hill with some cars waiting patiently behind me while others drove on around, my cheeks glowing red. My friend and I laughed hilariously when we discovered I was attempting the hill in fourth gear.
I soon began to feel overwhelmed and exhausted from all the newness.
In spite of their caring, none of my new friends could truly understand how difficult all these little adjustments were, along with those of reestablishing the relationships with my family. The most difficult part was losing my Old Order Mennonite community. That sense of oneness and connection that had enveloped every aspect of my life as an Old Order Mennonite was forever out of reach. That type of close-knit community can only exist within a cultural structure of everyone thinking, dressing, living, and believing within a defined framework. My mind had already broken out and even if my body would have returned, my mind could never again fit in precisely the same way as before. Being the introvert that I am, I never fully tried, nor was fully able to explain this phenomenon to my new friends. Outcast by choice from my old culture, my emotions were taut from not feeling as if I fully belonged in, or even knew how to, or even wanted to fit into this strange new culture. The once confident me had lost all confidence. I thought I was going crazy. I was scared that if I told anyone what I was experiencing mentally, they'd think I belonged in an asylum and I pictured white coats carting me away.
Then one morning God rescued me through my Anthropology class. The professor talked about a paragraph in the first column on the right-hand side of our textbook. He explained that when people from other countries move to America, they often experience many of those emotions listed in that paragraph. I recognized myself on that page and relief overwhelmed me. I was not going insane. I was experiencing culture shock. It was normal to feel what I was feeling in my situation. Once I knew I was okay and accepted my crazy emotions as momentarily normal, I began to heal. I taped a then current picture of me on my kitchen cupboard and every time I looked at the stranger in that photo, I reminded myself that that was the real me.
Shortly prior to my graduation in 1991, I was hired as a second-grade teacher in the South Bend Community School corporation in South Bend, Indiana. That is where I am still currently teaching. A professor's wife was on the interviewing team. Later that professor told me that during the first portion of the interview I was so painfully shy that they thought I'd never make it as an inner-city teacher. But towards the end, when I brought out the portfolio of my student-teaching experiences and I began talking about the children, I lit up and transformed into a dynamically enthusiastic person, they then placed me on the A-list for hiring. In South Bend I have taught all the grades between kindergarten and fourth grade. My favorite is first. My passion is teaching first graders how to read and write. Currently I am working as a Title 1 teacher. I don't have a classroom, instead I work with small groups of students from grades kindergarten through fifth. These students don't qualify for special Education but are struggling to learn how to read. In 2006 I got a Masters in Creative Writing from an online university.
I love adventure and when I learned that Lilly Endowment out of Indianapolis, Indiana, offers grants for Indiana teachers to refresh themselves, I was all in. I have received their allotment of two grants. With the first grant a fellow teacher and I explored Haiti. I had been there with a mission's group several years previously and had wanted to return. I noticed the children in Haiti were creative with the few resources they had. After my grant trip, I returned two more times and taught a one-day creative writing class for students and a teacher creativity workshop for teachers.
My second Lilly grant took my teacher friend, now turned principal, and I, along with our husbands, to storytelling festivals throughout Western Europe. We wandered through an old Irish village listening to storytellers. I looked in the River Severn under the Iron Bridge for trolls, but an English woman at the Iron Bridge Toll House reminded me quite sternly that trolls did not live in England. Oops! I had confused my Irish and English fairytales. From the Vatican, and a gondola ride in Venice, to a Swiss castle, on to Spain, and the Louvre, then more storytelling festivals in France and Germany… It was a five-week summer dream.
Fulbright and the government of Japan also offered grants to teachers, and I was accepted. I spent three weeks in Japan with teachers from across all fifty states attending governmental and cultural lectures, and visiting schools. On my free weekend I almost got lost on the Japanese subway trying to find a Storyteller performing at a small village library on the outskirts of Tokyo. My train had reached the point where the English/Japanese Subway signs had turned to Japanese only. I had no idea which train to get on and even if I got on the right train, I had no idea where to get off. In that moment of fear, the one thing that drove me on, despite the possibility of becoming irrevocably lost, was the thought of "what if…" What if I gave up and forever lived with the regret of not having heard the storyteller. I eventually found an English-speaking person who directed me to the right train. I got on the train trusting that I'd somehow figure out where to get off. After several stations a group of American expats entered the train and before exiting they told me to look for a train overpass in order to recognize my stop. Because of that "what if" choice I made, I have discovered the joy of hearing the rhythm of language by relaxing into a story told with words I have no ability to comprehend.
For eight years I had been trying to sell the house I was living in, which was jointly owned by my ex-husband and me. It had been in the middle of renovations when we divorced which made it difficult to sell. It finally sold only to reveal that he had a considerable amount of liens against the property and the sale fell through. Thankfully the crazy housing market last year priced my home at a value that paid off both the mortgage and the liens.
But that same crazy housing market caused every affordable home to be sold right out from under me and neither was there anything available to rent. With three weeks before the closing of my house, I sat staring at the map on Zillow reminding God of the words I had often heard the Old Order Mennonite Bishop repeat from the book of Psalms: "I have been young and now I am old, but I have never seen the righteous forsaken, nor their seed begging bread." Suddenly a particular house my realtor had shown me the previous week, but which was slightly out of my price range, came to my attention along with the thought: "Offer them $25,000 less." Of course, I laughed. No houses were selling for less. But my realtor contacted the sellers and they accepted. The only drawback was that smokers had lived in that house for thirty years.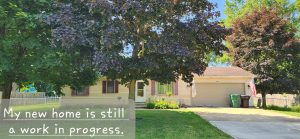 On the day of my twenty-minute move from my old house to the new, an amazing trove of family, friends, coworkers, and church people showed up to help in the transport of boxes and furniture and to tear out the old flooring and cover the walls with Kilz paint. The kitchen needed new cabinets and I've amazed myself at what I've been able to do with the occasional help of friends. I tore out the old kitchen cabinets and the soffit above it and painted and installed the new ones. It's been a year's journey of rewarding blood, sweat, and tears. I have a beautiful backyard and I'm in the process of planting a small orchard and building a raised garden bed.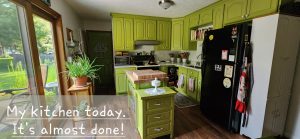 I'm not sure what the future holds for me professionally. I still love working with children, but currently most public schools are not doing an efficient job of teaching students, especially in inner-city schools. The majority of the children are struggling both academically and behaviorally. The curriculum isn't adequate and we are requiring primary students to learn abstract skills that are not developmentally appropriate. In the last few years, I've had conversations with teachers, principals, and superintendents about my concerns and they agree, but nothing ever changes. My teacher/principal friend that traveled with me throughout Haiti and Europe has retired this year. She has been speaking up also, to no avail. People higher up become upset when we speak too boldly. Some of the administrative people making important educational decisions have never taught school or don't even have education degrees. We as educators are failing our next generation. A fourth grader recently reminded me that I'm not too old to initiate change. She asked my age. I told her I was turning sixty this summer. "You can't be that old," she responded incredulously. "You're always happy and smiling."
I am once again feeling that elusive longing for more of my Daddy God. A God with an infinite depth of being. A God who invites me to live in his dimension where the answers for all these overwhelming problems already exist.
My suggestions for people from plain churches that don't allow higher education starts with earning your GED. Then think about what you enjoy doing and talk with a college counselor about what degree will help you do that. If finances are a challenge, take as many as possible of the required classes at a small local college where tuition is cheaper. Another alternative is to get your degree online. Make sure they are an accredited college/university. I'm glad I went in person for my bachelor and equally glad I went online for my masters. Also, read books and look up the definition and pronunciation of words you're not familiar with. Listen to podcasts that teach science, history, and other interesting topics and look up definitions and spellings of unfamiliar words. These steps will all help ensure your success in college.
To order a signed copy of my book(s), click on an image below. You will be taken to the books page of my author website to purchase.